After the Investigation of the Ladbroke Grove railway accident of 5. October 1999 by the British House of Lords, the Chairman Lord Cullen recommended alternatives to fusion welding, the use of better materials and analytical methods. Since then, trainmakers use FSW Panels world-wide, especially in Japan, China and Europe.
The Scandinavian aluminium extruders Sapa and Hydro Marine Aluminium were the first in Europe to commercially apply the friction stir welding process for the manufacture of single-wall aluminium roof panels for rolling stock applications.
Sapa in Finspång (Sweden) started production of FSW panels in November 1996, at a site that operates now under the name of Hydro Aluminum. They now have a production rate of approximately 2500 m of friction stir welds per day for manufacturing FSW panels, i.e. a yearly production rate of more than 750 km plus more on smaller FSW machines and robots. The cumulative friction stir weld length over the first 12 years of FSW production has exceeded 3000 km and grown ever since.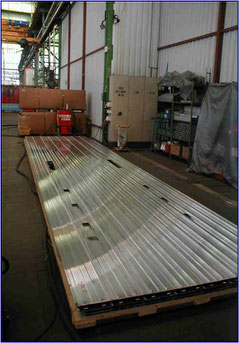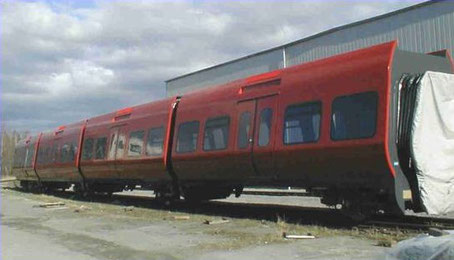 Alstom LHB trains for DSB Danish State Railways during production. FSW roof panels for these trains were made at Marine Aluminium under a contract with Sapa (now Hydro).
Since 1997, Alstom LHB in Salzgitter (Germany) have purchased prefabricated panels made by Sapa and Hydro Marine Aluminium for Copenhagen suburban trains.  In March 1999, Alstom LHB engineers considered friction stir welding hollow aluminium profiles for making floor and side panels, but calculated that a three-shift operation would be necessary for achieving return on investment in an acceptable time span. They estimated that the most significant technical and economic benefits could be achieved by applying FSW to aluminium joints of more than 12mm thickness. This would replace mechanised MIG welding which necessitates the associated activities of pre-heating and grinding of intermediate beads. Additionally, it would lead to improved quality of the welds.
Successful FSW experiments were conducted at Alstom LHB in up to 23mm thick aluminium plates, to demonstrate how MIG welds could be replaced in the underframe area of rolling stock. Since early 2001 they have used prefabricated FSW side walls and since 2002 FSW floor panels for Munich suburban trains. These panels were made by Sapa (now Hydro).
In addition to the production of large rolling stock panels Hydro Aluminium also produces smaller components, such as heat sinks for the high-power electronics of electric locomotives, e.g. IGBT coolers for insulated gate bipolar transistors. Hydro supplies all the major European train manufacturers (Alstom, Bombardier, CAF, Siemens, etc.) with aluminium extrusions and friction stir welded panels for a number of different projects. 
Friction stir welding (FSW) is incrasingly used car bodies which are made from Aluminium extrusions. Low distortion and high crashworthiness are the main benefits. Longitudinal members and floor panels of Electric Motor Units (EMUs) are also made by FSW.
Bombardier Transportation in Derby (UK) uses prefabricated friction stir welded side skirt panels made by Sapa/Norsk Hydro in Finspong (Sweden) for assembling their Class 377 Electrostar electric multiple units.
The rail vehicle industrie uses friction stir welded side panels, roof panels and floor panels made of extruded aluminium, due to their low distortion and crash safety. In addition, main longitudinal members and floor panels of electric railcars are welded with FSW.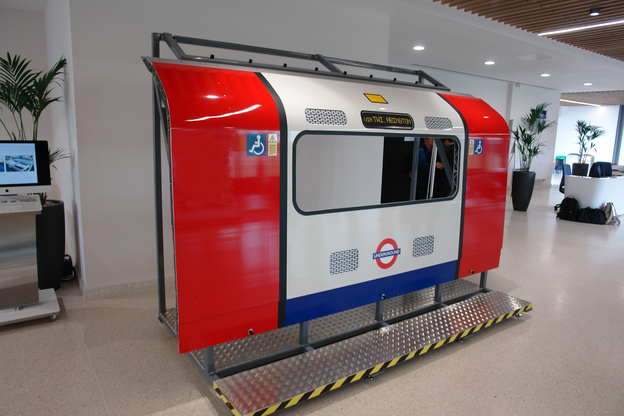 FSW train panel of Bombardier's trains for London Underground  exhibited at TWI
©  AluStir
Bombardier in Derby, UK, uses complete FSW side Panels for the carriages of London Underground. Bombardier participated in 1994 in the first Group Sponsored FSW Project at TWI in Cambridge, UK, and started 7-8 years later to use FSW Panels, because of their techno-economic benefits in comparison with conventional MIG welded panels.
FSW train panel of Bombardier's trains for London Underground  exhibited at TWI
©  AluStir
Hitachi successfully uses the friction stir welding process for the production of the A-train, where the A probably stands for both aluminium and advanced. The car bodies (walls, roof, floor) are made of double-walled aluminium extrusions prefabricated with the FSW process, and modular components can be fixed in the mounting rails of the extrusions. The trains have also been exported to the UK since 2017 (click onto the photos to enlarge them).[1]
British Rail Class 800 trains are "bimodal" bimodal multiple units (BMU) or electric diesel multiple units (EDMU). Where available, they can be powered by overhead AC lines and at other times by underfloor diesel generators. In diesel mode, their maximum speed is limited to 160km/h. They can change mode on the fly.
   
British Rail Class 801 trains are electric multiple units (EMUs), with each train having an EDMU-type diesel traction unit that can be used for shunting and in emergencies if power cannot be drawn from the overhead lines.
   
British Rail's Class 802 trains are also of the EDMU type, but have more powerful diesel traction units and larger fuel tanks (than the Class 800 EDMUs), so they are better able to cope with the steep gradients in Devon and Cornwall and spend more time on non-electrified sections of line. They are used by Great Western and by Hull Trains and as InterCity East Coast in a partnership between Stagecoach and Virgin.[1]
The British Rail Class 835 trains will be used in the Abellio ScotRail franchise. The contract for 70 new trains, worth £475m (about €660m at the time), was signed in April 2015. The first seven trains were manufactured at Hitachi's Kasado Works factory in Kudamatsu, Yamaguchi, Japan, and the remainder were subsequently manufactured at Hitachi's factory in Newton Aycliffe, England. Due to the specification of being able to reach all passengers with a mini-bar, bellows were provided at the ends of the train. This required a considerable engineering effort in the design of the driver's cab to meet the requirements for functionality, crash safety and driver ergonomics, particularly for visibility.[5]
Kawasaki Heavy Industries developed a new car body in Japan in 2006 with side panels made of laser welded stainless steel and a roof made of friction stir welded aluminium sheets.
These joining techniques did not only improve the flatness and beauty of body panels due to low distortion caused by lower heat input, but also have many other benefits and potentials, including patent related considerations.[2]
FSSW roof panel by Kawasaki Heavy Industries
© Kawasaki Heavy Industries
SBB in Blainville, Quebec, Canada has been using friction stir welding since 2014/2015 for an order of 140 aluminium roofs for the Alstom Citadis Spirit, a low-floor tram and light rail articulated railcar.
The cars are 2.5 m wide and vary in length from 10 m to 11.5 m. Each car body weighs 1300 kg and is welded together from several extruded profiles.[3]
Special projects at SBB: Scrambled friction welding of aluminium roofs
© SBB , 17 Oct. 2018
The panels for the car bodies are friction stir welded, machined, and then completed using MIG and TIG arc welding processes and coated with liquid paint.[3]
SBB partnered with the University of Québec at Chicoutimi (UQAC) in 2015, on which FSW machine the roofs of light rail vehicles manufactured by Alstom were initially friction stir welded.
Since 2019, the FSW process has been installed on one of the CNC machining centres at SBB's Blainville plant.[4] According to the customer's specification, the weld quality of the car bodies called Pavilion is 100% inspected with X-ray, ultrasound, magnetic particle and penetrating fluid tests.[3]